MailChimp is one of the easier email marketing tools to use on the internet. They focus on email marketing at its basic layers – providing a custom template of the email or ad and the voice you send it with.
This service has a very basic design, is simple to navigate, has premade templates to include all skill levels, and offers help with writing your emails. Marketing automation has never been easier!
Overall, MailChimp is a service that wants to allow any business – large or small, to strive for excellence. They believe in their product so much that they have a free plan, or a paid plan starting at $10 a month and with access to the landing page builder – a more advanced automation feature.
Using MailChimp is very easy to do. This service is designed so that even the basic skill level of operating a computer can design an email to send to their customers.
MailChimp wanted their design to be inclusive for all business types – such as entrepreneurs, mom and pop shops, and local businesses, that maybe couldn't afford a large-scale email marketing service.
Using MailChimp lets you feel comfortable, creative, and most of all – like a business owner. As a Mailchimp user you will be able to create great welcome emails, personalized emails, include a signup form, and have more control over the automation workflows of your campaigns.
This marketing automation tool will double your marketing efforts and boost any marketing campaign.
On Mailchimp there are four main components I'm going to touch base on:
Your Dashboard
Creating an Email Campaign
Adding Contacts and Creating Lists
Viewing Your Reports
That's really all there is to MailChimp, very simple and easy to understand.
Like I always say: you need to know your dashboard well because it's always the place you start at and the information is usually important.
MailChimp's dashboard is a little different. Their dashboard shows you an overview of your audience and how your campaigns are doing.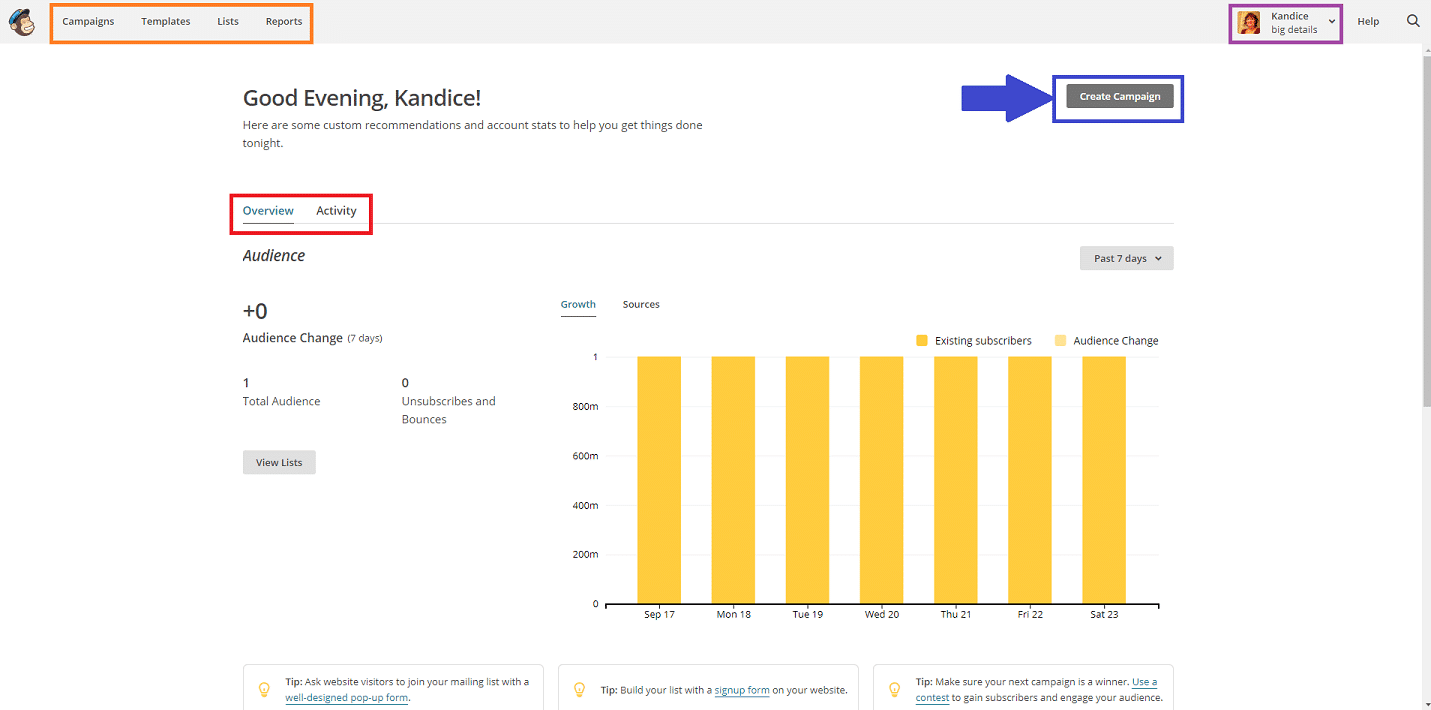 You can see the navigation panel is on the top left, the top right has your account information, you can view your overview and activity, and create a campaign.
This dashboard is very easy to use, so I find myself liking the simplicity of it! Click on create a campaign to proceed.
Creating an Email Campaign
I have found my love of creating campaigns, just to see how the process differs from service to service.
MailChimp provided me with all the tools I need to create a successful email campaign and it takes just under 10 minutes to complete! I don't think any email or marketing automation platform can boast that.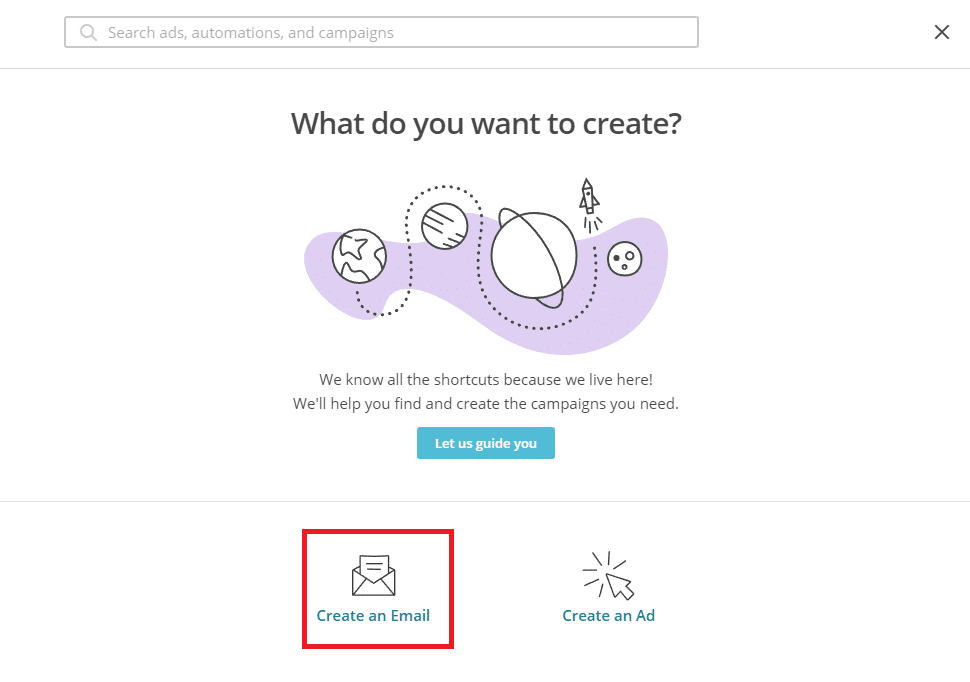 After you click on create a campaign, this screen will pop up and ask what you want to create. This is where you can ask for help, or select create an email, or create an ad. Select create an email to move on.
After that, you'll be able to choose the type of email you want to appear in: regular, automated, plain-text, or A/B test. Then you'll need to select the name of your campaign. Once you are finished, select the begin button.

This time it will ask you for the list you want to send your email to. This is your subscriber's list. Once you have chosen, select next.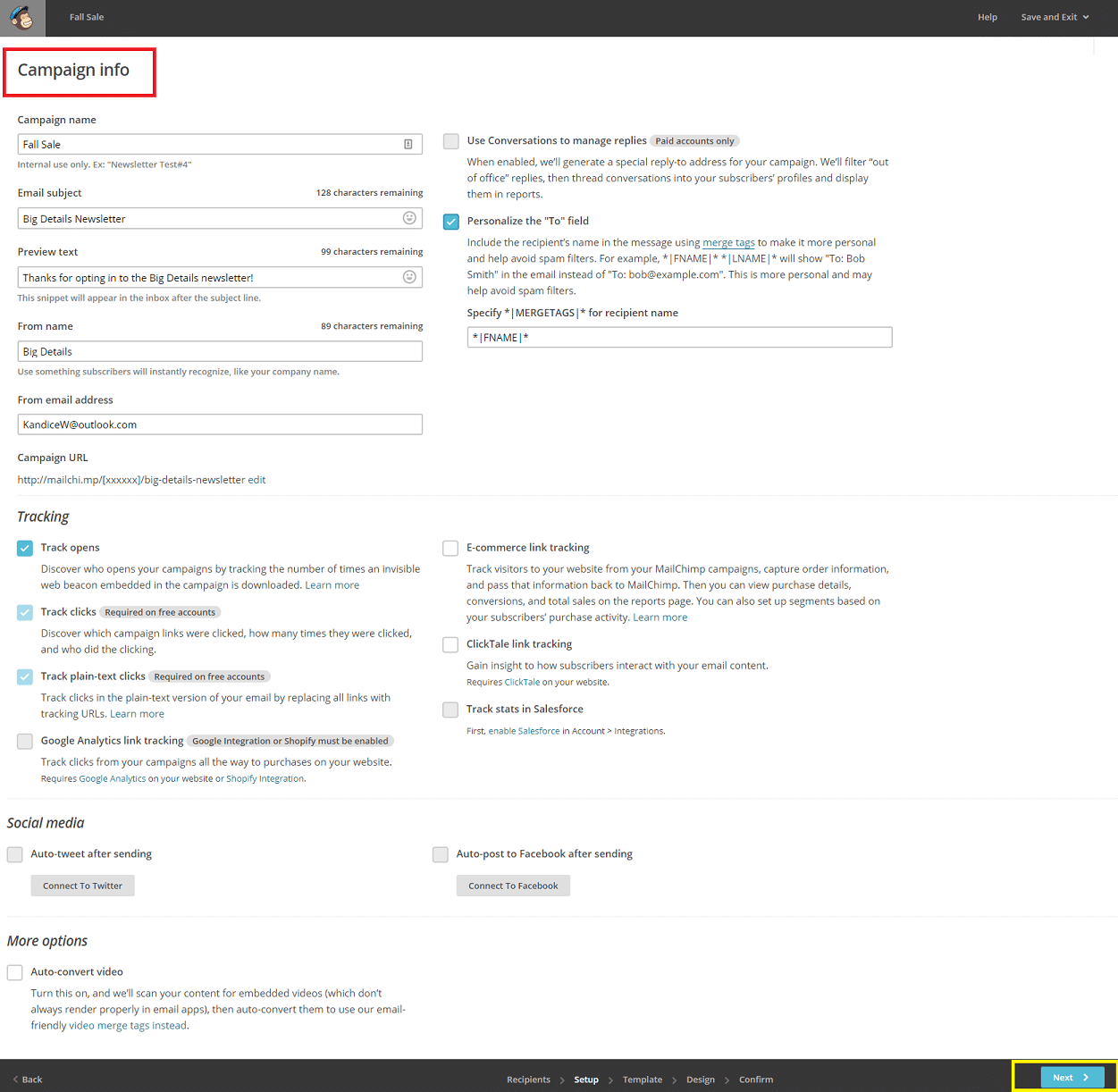 You'll now want to fill out the campaign info form. Here you can change the name, add your email subject and preview, who it's from, tracking information, social media, and more. Once finished, click on the Next button.

It's now time to select a template for your email. You can pick from a layout, theme, a saved design, an already running campaign, or create your own from code. Select the themes option.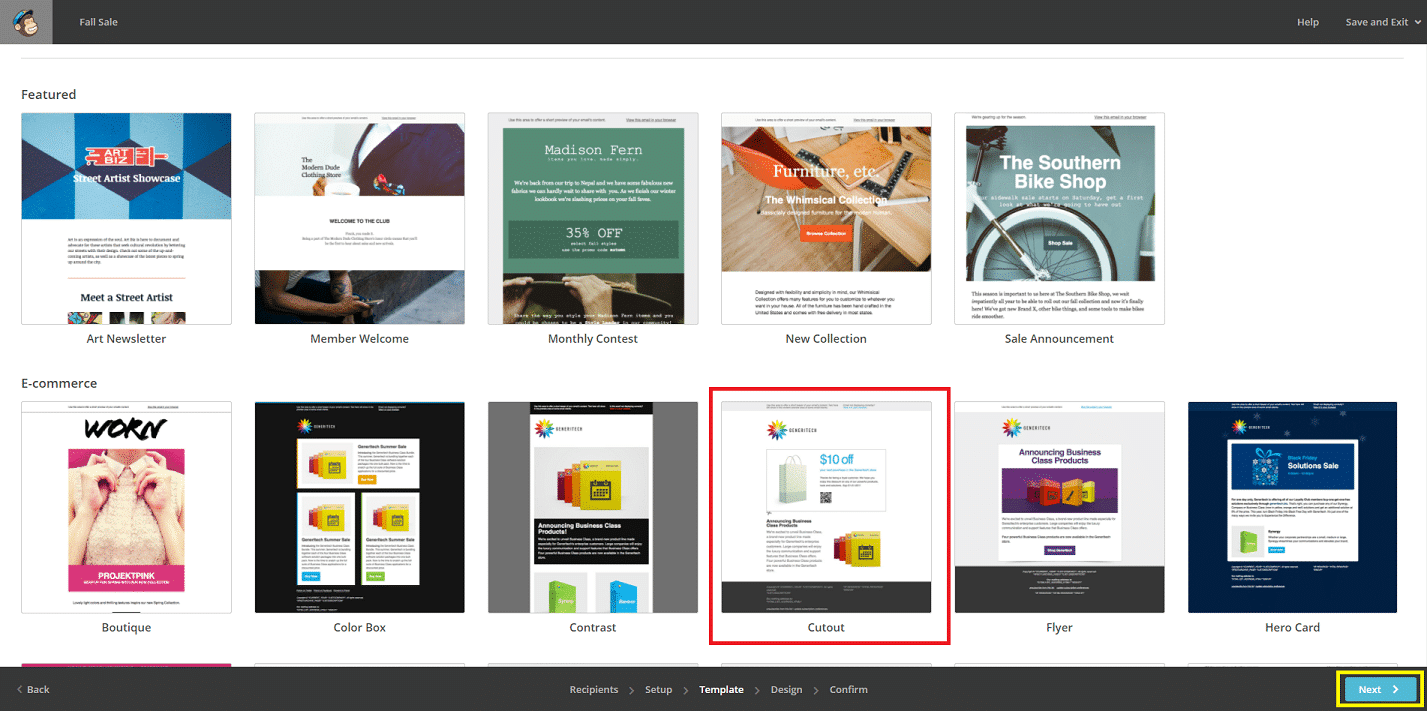 In the themes section, you'll see many different templates for you to choose from. I chose the cutout option. Choose your favorite and hit next.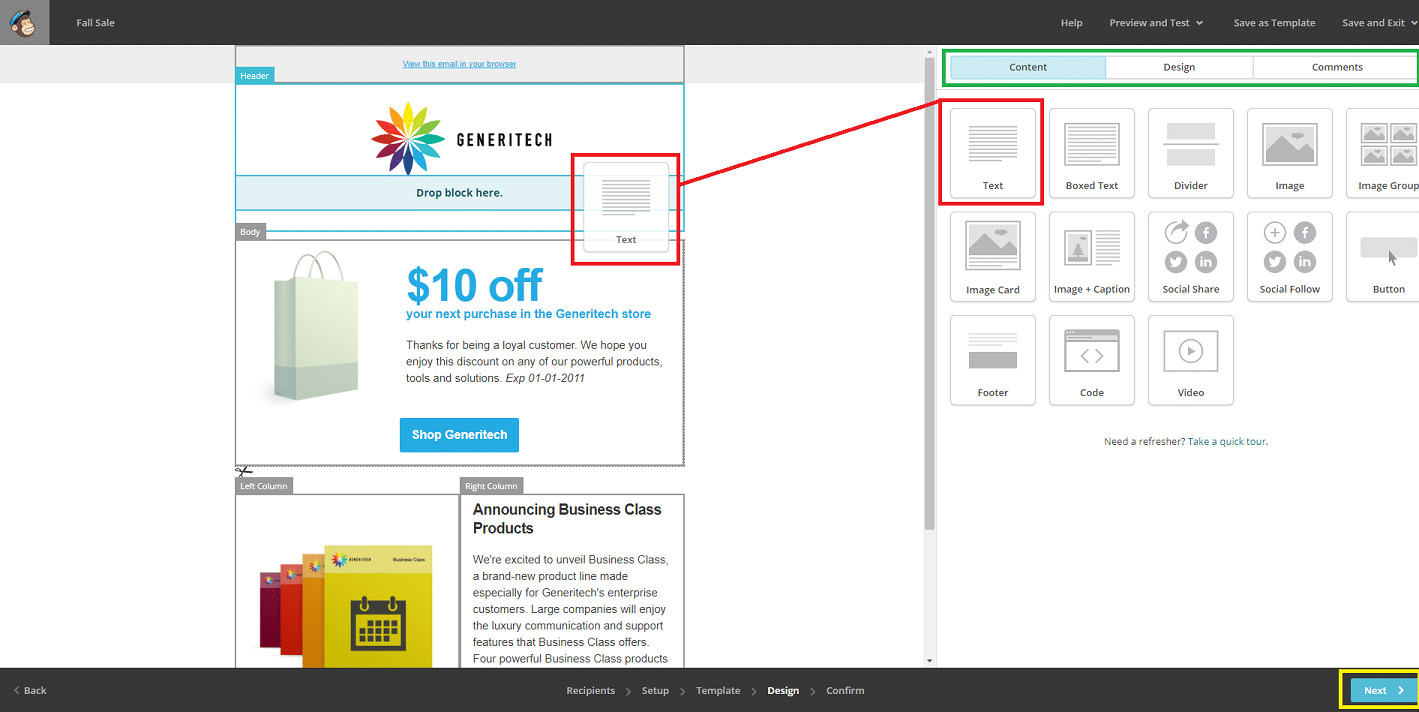 On the editor, you will be able to drag and drop text to anywhere on your template. This allows you to creatively customize the design to fit your needs, ideas, and business.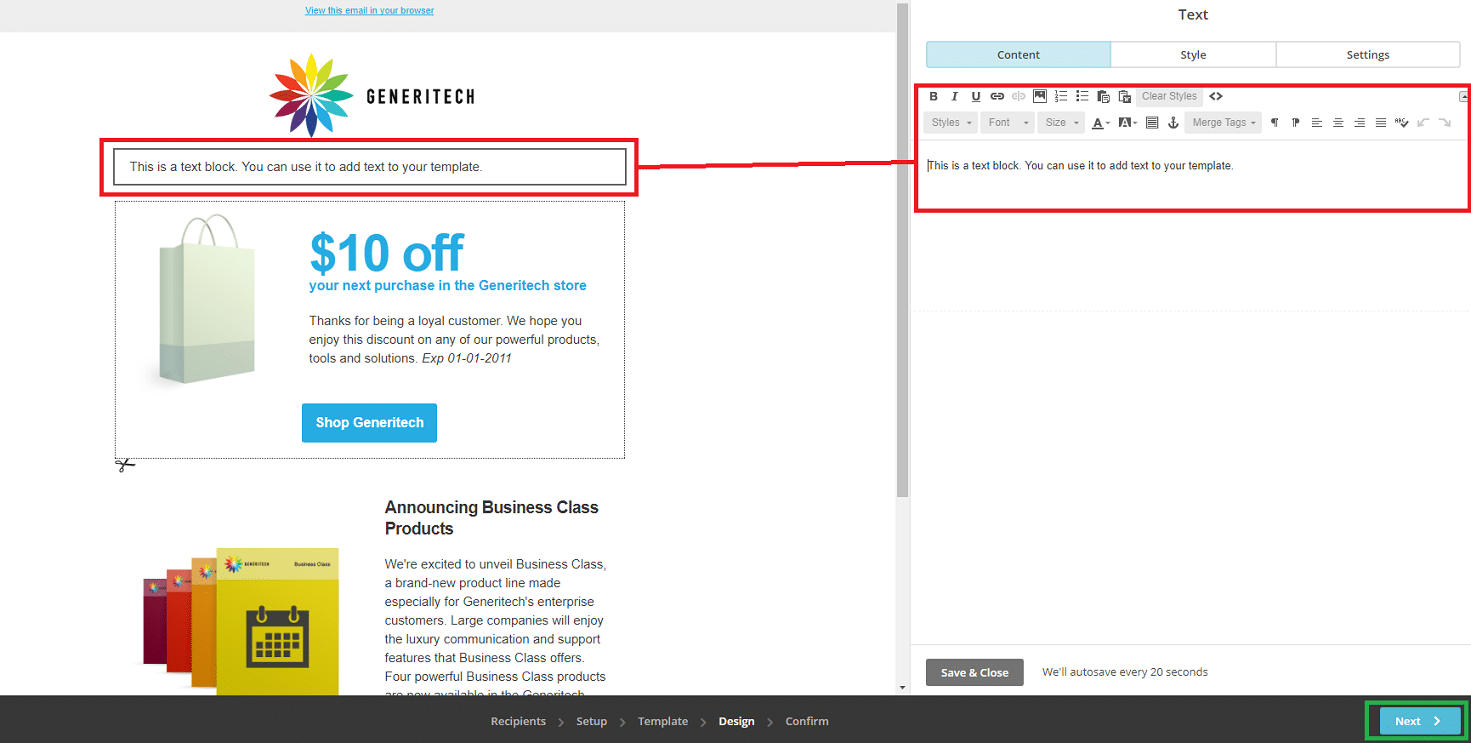 Once you release the mouse over the section you want to add something, clicking on an area will bring up the editing box. I clicked on the text box and the text editor popped up. You can change your font, color, size, add images and links, and so much more. Click next once you have finished.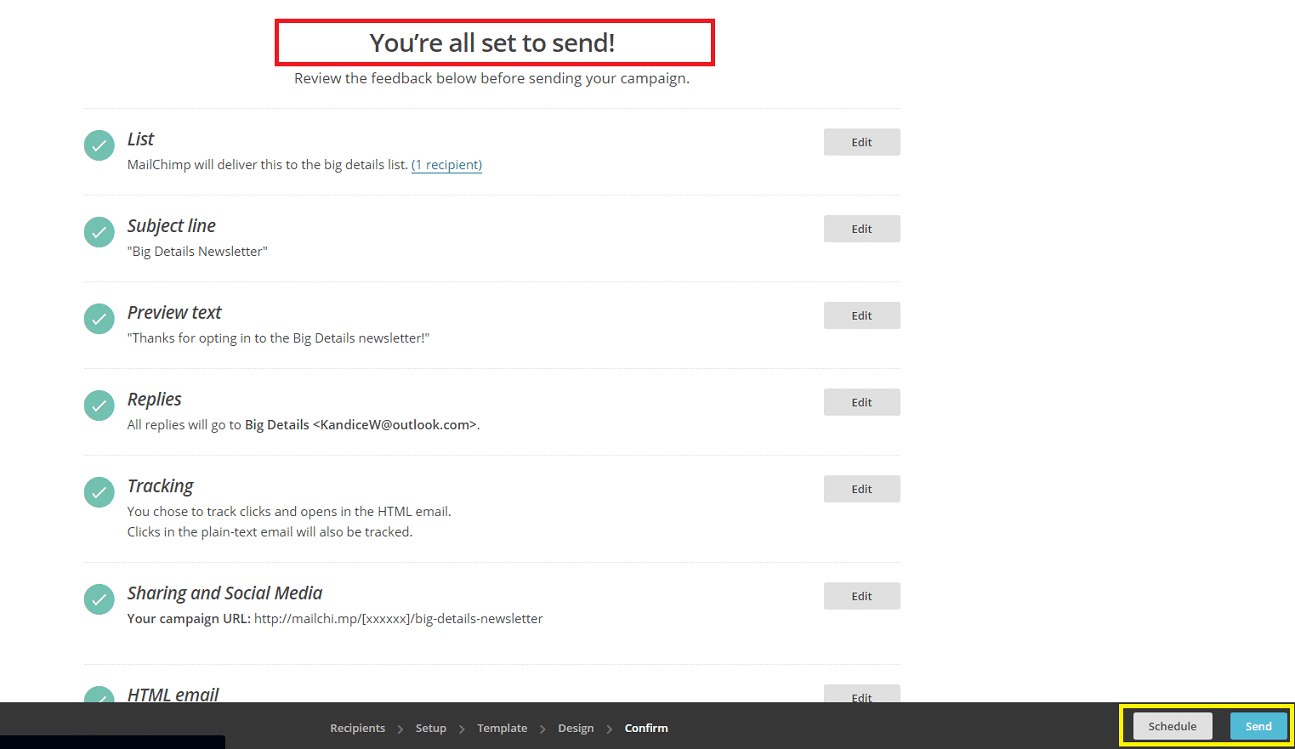 You are now ready to send. You can review the checklist to see how MailChimp feels about your email and edit it again if you want. If you are finished, select send.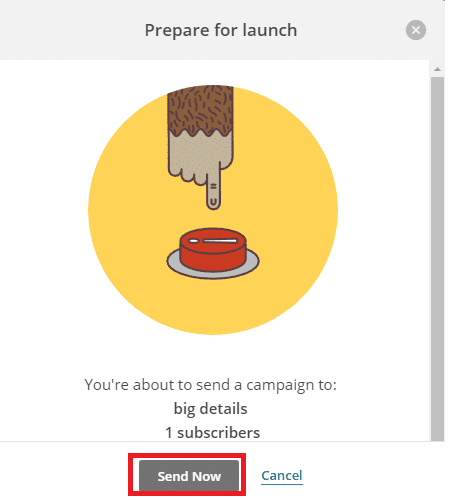 When you hit the send button, MailChimp will confirm once more if you want to send to the current subscribers. If you are ready to send, press sends now.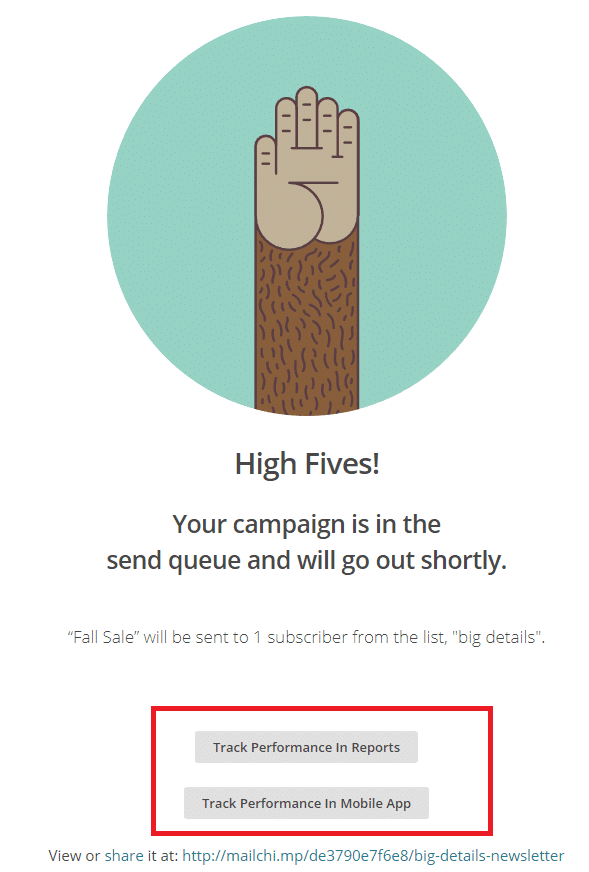 Your campaign has now been sent. You can either return to the dashboard, track your performance in reports, or in a mobile app.
Whatever you choose to do, you are finished making a campaign.
Adding Contacts and Creating Lists
You always want to make sure you add your contacts to your list, or import them, to make sure you are always up to date with your audience and your subscribers.
Adding contacts and creating lists for separate groups is very easy to do.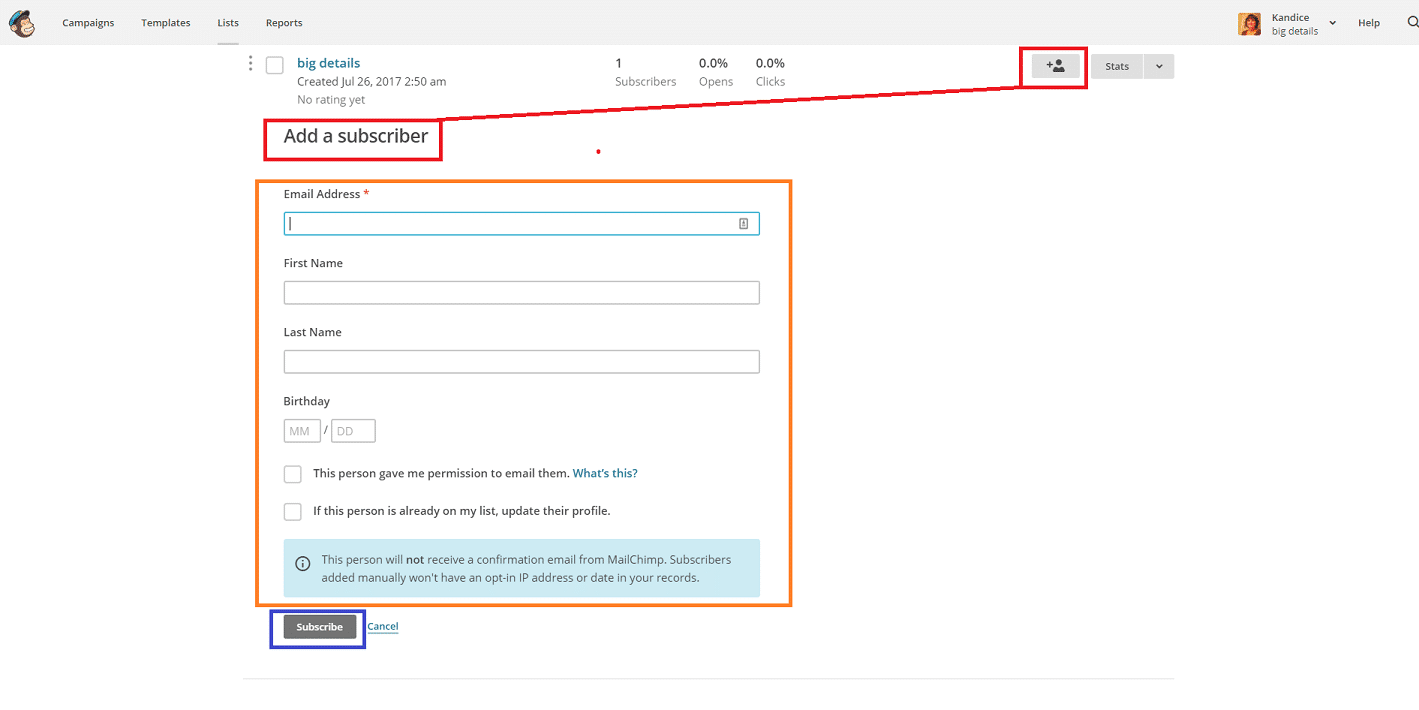 If you already have a list created, adding a contact is simple. Click on lists on the navigation panel, then select the person and + sign on the right side. This will dropdown the add a subscriber form. All you need to do is enter the information for your subscriber and select the subscribe button.
Clicking on the name of your list will open the management area. This is where you can manage your subscribers, add more, create a signup form, and more.

If you need to create a list: select lists on the navigation panel. On the right side of the screen, select the create list button to open the new list panel. Click on create list.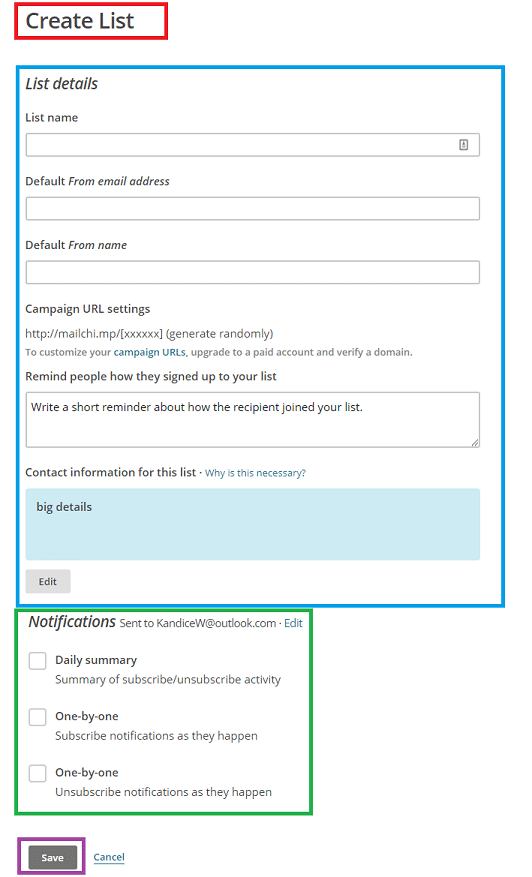 The create list form will display. You will need to fill out the details and select the notifications you want to be sent to you. Once you are finished, select the save button.
You have now created a list and added contacts in just a few minutes. Uncomplicated processes that work well are my favorite kind.
Your reports are how you can tell what campaigns are working well, and which ones are just dying out. When you send out a campaign, it's crucial to monitor how it's being received, who is opening it, who isn't, and understand what the data is telling you.

Click on reports on the navigation panel. On the reports screen, you can change between your campaigns, comparative, and automation. Under campaigns, you can choose the folders or filters you want to look in, then select a campaign to view. When you choose your campaign, select view report.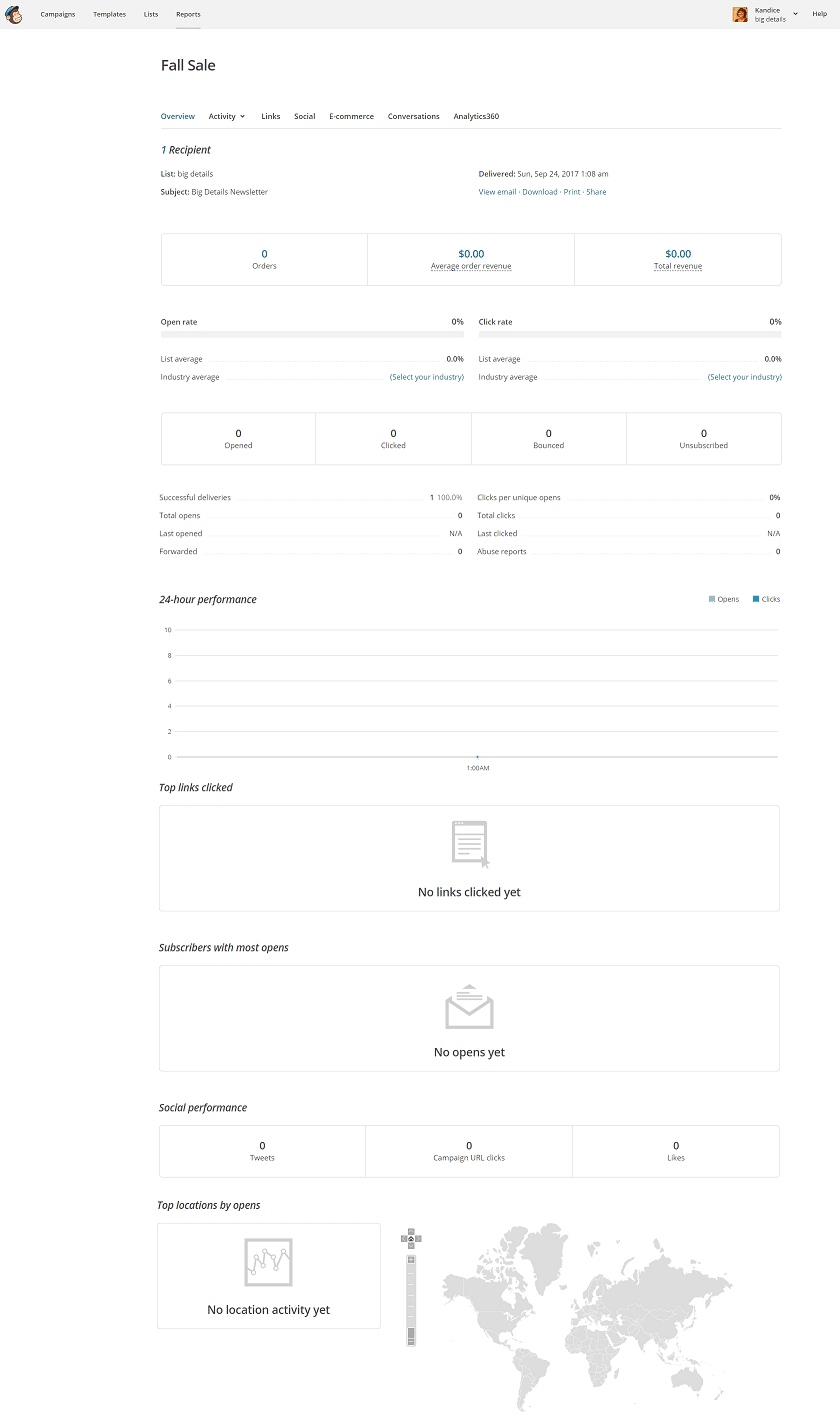 You can see every detail of the campaign you created. You can see how many people it was sent to, how many opened it, who click on it, how it's received, where your audience is, and so much more.
These reports are highly detailed and will help you to discover what you're missing in your emails.
I found MailChimp to be the best basic email marketing service because it's free of up to 2,000 contacts, you can pay for more, you can create customized templates, lists, and view detailed reports on your campaigns. I don't think there is a MailChimp alternative out there that offers as much for no payment.
If you are just starting out, plan to startup a business, or are a local, small shop – I recommend you give MailChimp a try and see how it can benefit your business as a marketing tool.