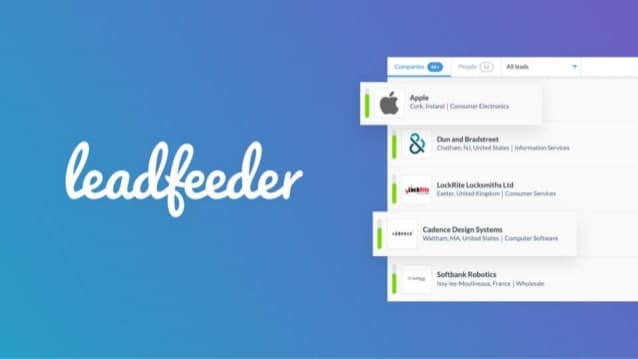 Have you ever wondered how many high-quality leads visit your website but never leave their contact information? 
Think of all those potential customers who come to your website and just vanish without a trace. They go to other competitor sites while you cold call or cold email people who have never heard of you.
It's a harsh reality, right? Leadfeeder is the B2B web tool that gives you high-quality leads by showing you the companies that visit your website. 
Incredible isn't it? The guesswork is taken out of the equation and you get to reach out to people who were already looking you up. This is a great opportunity for people who work in lead generation! 
But, is it too good to be true? Are the features effective and relevant for today's lead generation needs? Well, let's find out!


This web app impacts your sales intelligence by discovering new prospects from your website traffic. 
The data is then analyzed and filtered so that you receive the best quality leads to share with your sales team. 
With Leadfeeder, users can integrate their sales and marketing data to make lead generation easier and more efficient. 
The web app allows users to identify visitors who visit your website and package those leads for your reference. 
This is what Leadfeeder offers:

Contact insights

Automatic lead scoring 

Instant lead generation 

Personal email alerts

Automation to your CRM 

Free users

Versatile filtering 
These tools enable users to have real insight on who is visiting their websites, filter their visitors automatically and to learn who to market their products to. 
Generating leads is not an easy task. It's tedious, but it's very essential for people that want to grow their businesses.
Here's how it works:

Users install the

Leadfeeder Tracker script

to their websites




Leadfeeder

identifies companies

that visit your website




The data is added to an employee contact database



Qualified leads

are sent directly to your email or your CRM
By identifying companies and business leaders that are already engaging with your website and your content, it's easier to sell your products and services to them. 
Instead of conducting lead generation campaigns through email, it can be done by analyzing your website traffic. 
Leadfeeder will: 
Turn anonymous website visitors into real contacts

View company and contact information

Find out which accounts browse through your website
Once you receive this information, you can create feeds based on industries, and companies that you are interested in.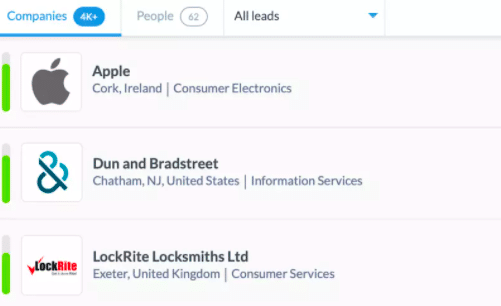 You can then send qualified leads to your marketing automation system. 
This is a continuous process because Leadfeeder enables users to build lists for potential leads and keep them all in one place. They can be categorized according to industry, geography or any other customized criteria you choose. 

It's not easy to identify accounts, target them and measure return on investment. This is why account-based marketing is quite difficult to implement. 
Leadfeeder simplifies account-based marketing by providing features that enable you to identify and track your target accounts. 
You can also enhance your ad campaigns to suit the needs of your target audience. For example, users can upload LinkedIn matched audiences for ad campaigns.
These features make account-based marketing more manageable because everything is in one place.  
Let's just ignore the creepiness of this subheading and put on our lead generation hats, shall we?
This feature enables users to track anonymous website visitors to identify companies that could become high-quality leads. 
The website visitor tracking feature also shows you exactly which company checks your site and leads those contacts to the right marketing channels.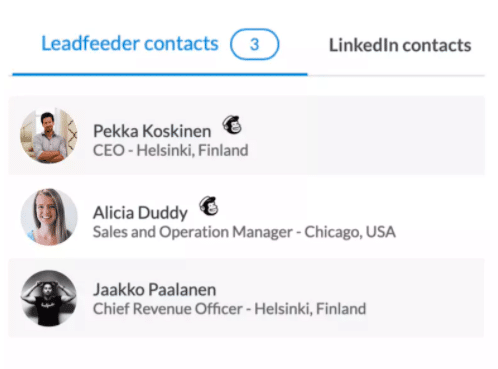 Once you've identified the companies that are interested in you, you can search through a database of company employees. You can filter the contacts based on job role and seniority. 
With that, you can get their email addresses and add them to your sales funnels. This is a very unique way of approaching lead generation because creating email marketing campaigns or making cold calls is not this personalized. 
That's why it's called cold calling and cold emailing because the recipient isn't expecting it, and they often don't even know anything about you or your company. 
It's rare for lead generation specialists to have access to this kind of information so Leadfeeder provides a unique opportunity for its users. 
Keep in mind that all this information can be summarized and sent to the relevant sales representatives. This is lead generation made easy!
With Leadfeeder, you spend fewer hours looking for prospects and more time selling and closing deals. 
Imagine a sales funnel that fills itself! This is possible with this lead generation software.
Sales teams are able to filter through all the generated leads and assign prospects to the right sales representatives. This makes collaboration a lot easier and quicker.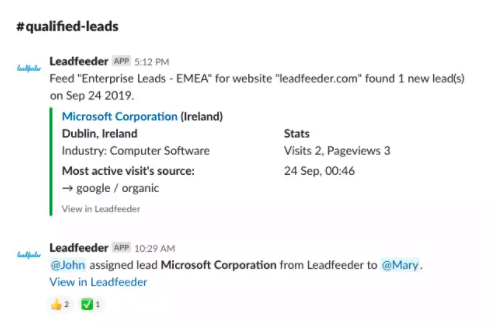 It means that you won't spend hours scouring LinkedIn for people that might be interested in your services or products. Their data will be sent to you in your Leadfeeder account and all you have to do is reach out to your leads. 
Yes, it does sound too good to be true, but maybe you should try it out for yourself and see how much time you save!

If you're still on the fence and you need more time to choose whether or not to invest in Leadfeeder, then you can sign up for their free trial. 
Leadfeeder offers two payment plans. Both plans are vastly different in what they have to offer. Take a look at your options!
The lite package is completely free and gives you access to limited features for three days only. After this, you'll have some big decisions to make! 
Here's what you get with the lite package:
Unlimited users 

Data retention (for only three days)

100 leads
This isn't much, it's rather modest! The lite package doesn't really give you a good idea of what this platform has to offer because you have very limited access to premium features. 
This might make it hard for you to make a final decision, but at least you'll get to test whether you can actually generate leads using this software. 
If you're able to get between 50-100 leads in your three-day free trial, why not sign up for the full subscription? 
The paid subscription plan contains all the premium features you read about in this review. The premium package starts at $63/month and offers a wide range of features. 
Here's what you get with the premium package: 
Unlimited users 

Data retention 

Unlimited number of leads 

Company details 

Contacts database 

Custom feeds

 Visit details 

CRM integrations customer success manager

Leads filter
There are more features offered in this package, but these are the main ones that stand out. 
The premium package is excellent for large sales teams who need multiple sales representatives to have access to the data in Leadfeeder.
It is also ideal for large sales teams because it gives you access to CRM integrations, unlimited users and an unlimited number of leads. 
This means that large teams can collaborate and use this data to launch lead generation campaigns with ease and speed. 
If you're interested in the premium package, you can sign up for a 14-day free trial to get a feel of all the features that are available. 
This is a great option for those who are serious about finding a new lead generation software. 

Pros & Cons of Leadfeeder
These are the Pros of using Leadfeeder: 
Features simplify sales and lead generation 

Website traffic is used to generate leads

Affordable payment plans
These are the Cons of using Leadfeeder:
Questionable ethics 

Customer privacy violations

Users can get leads, but can't create or launch campaigns
Hey, there are many options to choose from when it comes to lead generation software. Let's start there. 
Is Leadfeeder a game-changer? Probably not. 
Many lead generation platforms promise incredible results but few will deliver. At least with other platforms you can create, send and monitor all your lead generation campaigns within the platforms. 
Here, you don't get that option. You just get your sales funnel filled, but you still have a long way to go from finding an email to launching a successful lead generation campaign. 
This isn't the key to successful lead generation, but it is rather innovative in its approach to sales prospecting. 
When you take your lead generation hat off and analyze this platform from a consumer perspective, it's kind of creepy isn't it? 
It can be useful to have anonymous visitor data collected because you can use it for sales, but would you really want your data manipulated this way?
There are some privacy issues and ethical reservations about having this much-unsolicited access to anonymous website visitors' data. 
But when you put that lead generation hat back on, this is a game-changer. It will make your life easier when it comes to finding high-quality leads in a timely manner. 
If you are curious to see whether Leadfeeder actually delivers on its promises, then go ahead and sign up for the free trials! 
If you are more interested in lead generation software that allows you to create, send, and track campaigns, then Leadfeeder might not be the right choice for you. 
Whether or not you choose to use this platform really depends on your sales needs and personal beliefs about the approach that Leadfeeder uses. 
The final verdict is: Leadfeeder scores 75%
If you want another alternative, try using Prospect.io.
But if you like this tool, then you can sign up for Leadfeeder here.