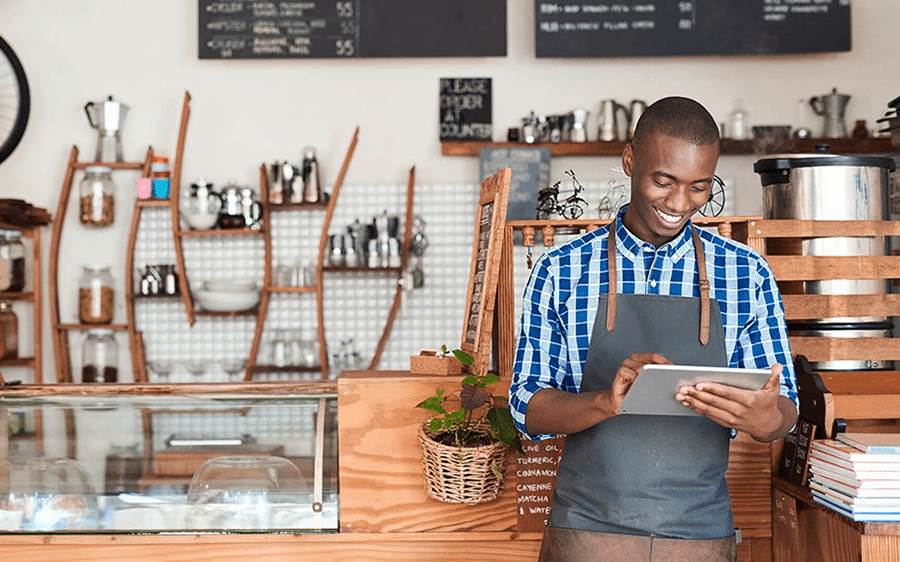 Source: Nairametrics

Business marketing is a complex process, especially if you only have a small and local entity, but it doesn't have to be complicated. Many options to help market your business are simple to use and cost-effective. Proper planning and strategy can generate leads while significantly reducing your small business's time spent on marketing.
You can create local leads using effective strategies.  The advantage of digital marketing strategies is that they connect your business with a specific target market. In this article, you will be provided with some of the most accessible, affordable, and highest-impact strategies for generating leads for local businesses!
First and foremost, what is a "Lead"?
A lead is an individual who has expressed interest in a product or service. It can come from any type of marketing, but it usually refers to individuals targeted by advertising and PR tactics.
Lead generation is one of the most critical aspects of marketing. It's the first step in a sales process, generating revenue that allows for new products, services, or campaigns to be produced. This strategy must be well-thought-out for a company to grow and make more money.
The purpose of lead generation is to build consumer interest. The goal is to convert people who express interest in a product or service into customers by getting their information. The first step is getting a potential customer to learn about what you can offer.
To generate leads, it is essential to consider the market size. Small businesses prefer to generate potential leads from local areas, while big brands try to reach as many people as possible in large areas when they perform multi-location management. Lead generation can be used by small businesses in local areas to reach potential customers and convert them into paying clients.
How to Generate Leads for Local Business
Make your online presence more effective
Local traffic can attract your business by optimizing your social media, blog posts, and website for local traffic. The keywords you use for optimization should focus on encouraging local involvement and highlighting your brand locally.
Use Facebook lead ads to target your audience!
For local business owners, Facebook is the best way to reach out to their customers due to its 2.41 billion users and unmatched targeting options.
Say, for example, you recently opened a new dance studio in Seattle. Let's say Valentine's Day is around the corner. You will be able to target Seattle-area men in a relationship with Facebook advertising. Your message would be something to the effect of, "Valentine's Day is quickly approaching. Make it special for her with a wonderful gift!"
If your dance studio does not offer classes until April, what would you do? Prospective students need to start signing up now. Facebook ads fill that void!
When it comes to lead generation on Facebook, we have a couple of options:
Send those who click on your ad to a landing page where they will be asked to provide their contact information.

You can also run a Facebook ad.
  Facebook lead ads convert better than Facebook ads that send people to landing pages: WordStream found that Facebook lead ads convert people 19.77% better than Facebook ads that send people to landing pages. 
Suppose you don't have to export Facebook lead ads manually. Connecting your Facebook ads to your CRM allows you to send your new leads there automatically and directly.  
Develop a local lead magnet.
Lead magnets encourage prospective leads to trade their contact information for an incentive. If your business is based in London (and only serves your area), you don't necessarily need Singapore leads. Making a generic lead magnet that appeals to everyone is a poor move. Develop a lead magnet that appeals directly to the local market in your local area.
Contests and giveaways can be organised!
A contest that gives away prizes in your area might be the best way to generate local leads exclusively. The purpose of a contest is similar to that of a lead magnet in that it gives prospective customers a reason to provide contact information. However, with this contest, you offer them the chance to win the prize they want.
An individual leader is worth more than 100 prospects who do not. A lead is a vanity metric like social media followers or blog subscribers. Your business will benefit if you give away a prize related to your business. You may get fewer leads, but the leads will be value-added. 
We all have a hard time skimming through piles of emails and reading irrelevant pitches, and bloggers and editors are no different. Be sure to get in touch with the correct person. A bit of research will help you find out.
The value of promoting your brand or product/service versus the benefits it brings you should be communicated in your pitch, whether for a short-term promotion or long-term partnership.
Develop a localised landing page
A landing page is displayed when a customer clicks on an ad or link. 
Local customers are attracted and hooked by using simple content marketing techniques. Businesses create landing pages to get information through a lead capture form or start a call to action. You can design a landing page and include there your brand logo design to target a specific market by tailoring it to the location or category. Creating landing pages for specific local markets or branches will generate local leads if you target more than one market. 
Customers are more likely to engage with the branch nearest them if they are prospective clients.
In this case, consider the following:
Invest in local search engine optimisation (local SEO). Google should show your business when a person types relevant keywords based on your area.

Using Facebook ads, develop a lead generation campaign that targets those areas and sends them to a landing page that outlines your area and the partners and attorneys in it.
Switch to offline mode at times!
The digital marketer may find it challenging to remember to look out the window. It is common for marketers to have a superiority complex when it comes to implementing marketing strategies, and "shaking hands with people" is often overlooked in favor of another A/B test. For local businesses, conferences and trade shows can provide opportunities for generating quality leads and building relationships.
Qualified Leads: The Importance of Finding Them


Source: Tidio
When it comes to marketing leads, marketers distinguish cold leads from warm leads. It is considered cold leads when a customer is not actively seeking your product.  Conversely, warm leads are those who are already familiar with your brand and are considering buying your product or service. 
Warm leads are considered qualified because they are of higher quality than cold ones. You can increase sales by targeting local leads by letting them know about your brand and offering and changing them from casual visitors to active customers. Thus, you will create a warm lead to whom you can follow up and offer your product or service. 
More and more people are starting their businesses in this day and age. This is why having a steady stream of leads is essential to the success of your entity. There are many ways to generate leads, some more effective than others, such as social media advertising, referrals, networking groups, and online events. However, it is essential to utilize digital marketing well and treat 'offline' factors as equally significant considerations. In that way, you can boost your business' growth.
Tell us what your vision is for your local business below this post! How do you plan to generate leads? How do you want to appeal to your target audience? What is your lead generation strategy?
Frequently Asked Questions
What is the difference between a lead and a customer?
Leads are people who have not yet bought anything from your company – they might be interested in your product or service but haven't made a purchase yet. On the other hand, customers are people who have already purchased your product or service – they've shown interest in the product and may need help with the product or service.
In other words, the difference between leads and customers is that leads are interested in your company while customers are interested in your products and services.
What are the definitions of lead generation?
Lead generation is a marketing term that refers to generating business leads. It is a process that involves developing and executing the strategies for capturing, qualifying, and converting prospects into customers.
What are the most popular lead generation methods for local businesses?
Lead generation identifies, attracts, and converts a potential client or customer to a purchaser. It is a vital part of any business marketing strategy. It can be challenging for local businesses to know the most effective lead generation methods.
There are many methods that local businesses can use to generate leads. These include advertising, social media marketing, email marketing, direct mail campaigns, and networking events.
What are some of local business owners' most common mistakes when generating leads?
This is a common question that local business owners ask themselves when trying to generate leads. The answer is that it depends on the type of business, but some of the most common mistakes include poor branding, not having a website, and not having a social media presence.
However, the biggest mistake many local business owners make when generating leads does not have a marketing strategy. They are often too busy running their businesses and don't have the time to think about developing a marketing strategy. This is why they end up with mediocre results.