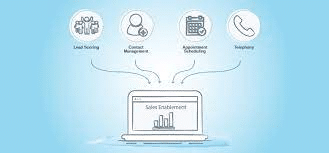 It's no secret that the sales funnel needs to be improved. We live in the age of engagement and it's time to use sales engagement platforms to make them better.
Alternatively, you can keep doing what you're doing and wonder why your business isn't growing as much as you'd like.
Sales engagement platforms can improve all aspects of your marketing program. This includes the nurturing side, like email and social, as well as for analytics and insight/reporting.
Sales engagement software is a must-have for businesses who are reaching out to their leads and customers. But with so many platforms out there, where do you start? How do you choose? And how can you make sense of all the different solutions?
Read this post to find out the best sales engagement platforms and how they can help you boost your sales performance.
VanillaSoft is a sales engagement platform that has several automation features that will improve your workflow. These include "Auto Dialing" (which calls the next prospect once you've ended a call), SMS, Email, and Call Recording to name a few.
VanillaSoft is ideal for teams that conduct one-on-one phone calls and have several prospects and leads to follow up on. 
Freemium sales engagement platform SalesHandy specializes in email outreach campaigns. It caters to businesses no matter the size
SaaS engagement tools are useful for increasing the engagement of your content so that your audiences will naturally engage more with it. Many email marketing tools use a fairly standard messaging format, which can be effective, but sales tools are meant to be used by salespeople. 
As such, SalesHandy was built with a unique twist to its design and messaging. The goal was to turn that common message into something truly powerful.
Mailshake helps you build sales sequences for phone, social media, and email. 
Mailshake has helped millions of businesses in the internet industry grow a massive following of engaged consumers. 
Mailshake's typically recurring marketing through email allows you to reach your prospects and customers regularly with single opt-in forms.
This allows you to contact the people you want to engage, at the right time every month, or whenever they want to stop communicating.
Reply is a software-as-a-service (SaaS) platform that helps businesses easily send marketing automation email responses to their newsletter subscribers. 
Reply optimizes the content of emails a user receives, so that businesses can see which subscribers are interested in their products.
Reply specializes in outbound and inbound engagement via email and phone. You get unlimited email searches via LinkedIn, a to-do list based on your sales approach, and voice calls are made on the platform. 
Freshsales is a sales engagement platform used by over 172,000 companies around the world. 
Freshsales helps B2B and B2C businesses engage their sales team more effectively by doing the following:
Helping them make better, more data-driven decisions

Allowing salespeople to execute strategies, plans, and tactics that meet specific goals

Creating customized content and publishing it directly to the customer contact's LinkedIn profile

Enabling content from qualified prospects to share with their connections
Dealhub is a sales engagement platform that enables businesses to increase their leads through targeted deals. 
Offering true human-to-human interaction, we increase the experience of relying on human interactions, builds loyalty, and decrease the customers' fears.
Dealhub allows you to pull in data from sales pipelines, create goals for both your team and your customers, and set up automated onboarding processes for customers who want to sell a product to your business.
Plug this tool into your workflow to improve response times and get a handle on how much money you can make through sales.
There are plenty of tools and platforms which are used to drive increased sales. These could be used to inspire new leads by engaging with existing customers or to elicit positive engagements and opportunities via social media.
Your sales and engagement platforms should be completely aligned with your business goals and objectives. 
They should make it easy for you to monitor the progress of your most important messages across the company, allowing you to take immediate action when things go awry.
I've listed out the best sales engagement platforms to use. These sales engagement platforms make it easier and faster to engage your audience. With these tools, whether you're a brand or an individual, you can engage with customers and gain their trust and attention.