Whenever an entrepreneur plans to begin a new journey with a venture, the first thing that comes to their mind is how they will generate leads and who will be the targeted audience. Starting a new business comes with endless questions to be solved and numerous circumstances to be thought of. Successful companies are not built in a fortnight; years of evolutions and dedication of all the people involved makes it. One of the essential segments of any business is to generate revenue by continuously acquiring new customers. Whatever the business might be, a product or service or even both, sales is the only way to profits. Creating awareness and attracting customers becomes extremely important for new businesses to make a certain amount of sales. The business might face difficulties in the initial stage to change the customer habits as they might be using the substitutes and making them familiar with your product or service. Your recently formed business might face difficulties in the initial stage to change the customer habits as they might be using the substitutes and making them familiar with your product or service. If you plan to start a new business and are confused about generating leads and making sales, this article is for you.

What Are Leads And Lead Generation
A lead can be any person who shows interest in your product or service. For example, the business owner runs an advertising program for its product and gets a call from a person to inquire and know more about the product; this can be called a lead. And, the process of capturing more and more leads becomes lead generation. Lead generation is the very first step to achieving the sales target. But leads are not generated automatically. Many ways and strategies together make it possible. Converting a lead into a customer has an entire process with different phases. All the leads a business gets can be different from each other based on where it arose and what the requirements are. 
Often, getting more traffic on the website or other platforms coincides with lead generation. It's true that traffic should exist to generate leads, but traffic alone is not the leads generated. It might be just the visitors not even interested in buying your product. There can be some potential leads from the traffic, but all can not be called qualified leads. Differentiating a lead and qualified lead and then converting it to a customer, there exists a lead generation funnel and buyer's journey. This article will help you know the lead generation strategies and tools to convert the lead into a customer effectively. 
Lead Generation Strategies That Work In Today's World
Marketers typically have brainstorming sessions to find new tactics for generating leads and increasing sales. Unfortunately, a method that onced worked can not probably work every time. However, a mixture of different strategies or even trying a unique idea can work well. Below, listed are some of the proven strategies that work in today's world:
Blogging and Relevant Linking
Blogging is the most favorable and widely used method to generate leads, but leads will not come themselves just by reading likeable content. They are needed to be driven. For example, adding some call to action, asking for contact details, and adding some freebies will bring them to an end. Another way is linking your websites and blogs with the other relevant ones. Remember, the content and links should always be relevant, as this is one of the parameters search engines consider and affects the ranking.
Pay-per-clicks have grown much popularity these days. In this way, the businesses can generate leads by running the campaigns in different locations. The targeted keywords of the business are used, and the cost per click can change according to the location. Using Facebook Ads can also bring leads when it is linked to the business website or blog.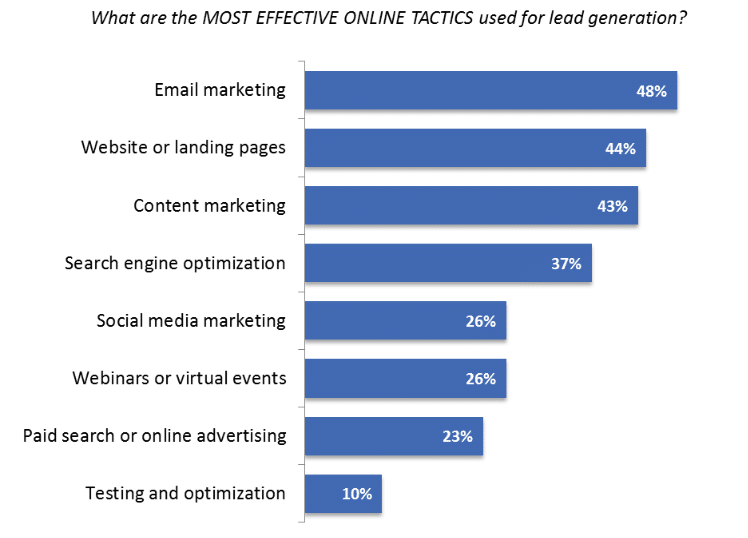 Build A Strong Marketing and Sales Team
It's not necessary that hiring multiple people will only bring results. Instead, it is about finding the right person. The cycle starts from lead generation to converting it to a customer that needs the involvement of the marketing team and a sales team. Tracking the employees' performances is necessary to know whether the work done is in the right direction. A defined performance management method will provide better analysis to identify the gaps. Effectively managing the marketing and sales team will help reach the target goal.

Offering Something Free To The Target Market
The word 'free' facilitates many. If your business can offer something for free, it can attract your target audience to try it once. It will be an effective way to prove the quality of your product or service, and the rest will work itself. For example, a service-based company can give free demos of their service, and if it's a product, they can provide some free samples.
Website optimization is a fundamental need that has built a website. All the marketing and sales efforts will have a null effect if the website is not optimized. Whenever a visitor comes to your website, it should be loaded fast, should be up to modern design standards, and give the best user experience so that the visitors explore the entire website and get a better idea of the product or service. If they're looking for an automatic photo editor, there should be a specific section for any user request.
Keeping an eye on the competitors will always be worth it. Observing how they generate leads and use online lead generation services can be helpful as the target audience is the same. Sometimes there can be an unnoticed competitor that needs to be considered. Watching competitors' social media accounts can be used for lead generation purposes and even borrowing a new marketing idea.
It is necessary to add security to the website while setting up your business. Customers, when browsing your site, it should be secured with an SSL certificate. It is an ideal way to buy an SSL certificate, so customers will trust your website. In case you run an eCommerce store, you can choose eCommerce hosting plan that comes with security features including SSL certificates.
To grow the business better, lead generation is to be worked upon. There can be endless ways to generate leads for the business, and trying a unique tactic can sometimes give surprising results. This article has mentioned some proven methods and strategies to generate leads for a new business setup. Be creative, innovative, and reach your business objective.