You may have heard of the concept of LinkedIn marketing. If you browse the Pearl Lemon Leads website, you'll notice that it is a service we offer. And naturally, you may be sceptical of the potential a social media site – albeit a rather serious toned one – can really have for generating real and valuable B2B leads.
In 2019, according to the company themselves, there were over 590 million LinkedIn users located across 200 different countries. Impressive, but Facebook is much, much larger and Twitter has become the chosen communication tool (apparently) of the 'leader of the free world'. So what differentiates LinkedIn from those competitors and why should you make its regular use a part of your own digital sales strategy?
Since it was founded, in 2003, LinkedIn has operated in a very different way to Facebook or Twitter. Rather than being a platform for the dissemination of a million memes and hundreds of thousands of cat pictures, it has set itself up as the social media platform for serious professionals. You'll find a slew of corporate heavy hitters on LinkedIn interacting on a regular basis, but you certainly won't find them on Facebook.
LinkedIn is not just a place for professionals to 'chat' at a 'higher level' though. It has become a valid tool for recruitment, for business networking, for brand promotion and, increasingly, an accepted and effective platform for lead generation and digital selling. All you need is a good lead generation strategy and you'll be well on your way to attracting potential clients.
LINKEDIN IN 2019 BY THE NUMBERS
So is LinkedIn all it's cracked up to be, or is this going to devolve into yet another pitch for a LinkedIn marketing agency fishing for business? How effective is it – or does it have the potential to be- for lead generation?
Rather than put forward paragraphs of our own opinions, here we thought we would let some rather persuasive statistics speak for themselves (all of which were up to date and accurate as of December 2018).
TWO NEW PROFESSIONALS JOIN LINKEDIN EVERY MINUTE
That's an impressive growth rate. From 467 million users in Q3 2016 to 590 million by the end of 2018. Or, to put it in other terms, 123 million users in two years. Compare that to Twitter, which only gained 9 million users in the same period. (From 317 to 326 million users between Q3 2016 and Q3 2018). Meanwhile, Facebook's stagnating user growth has been much talked about for a while. Even before 2016, LinkedIn's growth was reliable: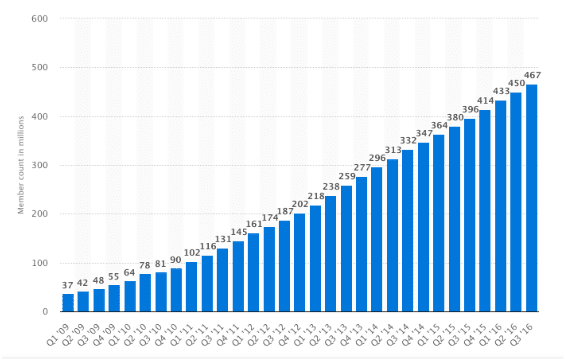 This ongoing growth was the very reason – or at least one of the biggest – that Microsoft made the decision to purchase the company in 2016. It may not be as 'hot' as Snap or Instagram, two other rising stars of the current social media world, but that was never what it was all about.

With two professionals signing up every second, the chances that the people you need to connect with are on LinkedIn are significantly high.
45% OF LINKEDIN USERS ARE UPPER MANAGEMENT
When it comes to Linkedin lead generation, the closer you can get to the real decision-makers, the better. Therefore, the fact that 45% of the active user base is in upper management – managing directors, CEOs, founders, occupants of the C-Suite – makes it the ideal platform for finding, and potentially communicating with the people with the real power, rather than just with their assistants and gatekeepers. As a campaign manager, it would be foolish not to consider having a LinkedIn marketing strategy for your lead generation campaign.
This eye-opening metric is a direct reflection of the average LinkedIn users' general mindset. It's really not surprising that the likelihood a browser will click through to your website or blog is high. Most people are there seeking information and they want to see just who is providing it and what else this person might have to say.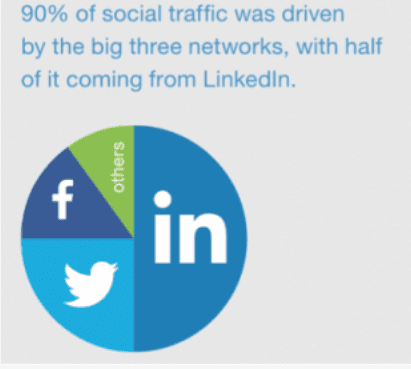 There are a number of reasons for this. Simple ease of use is an important factor, as is the search for credibility. Within the LinkedIn platform, your leads can research you with just a few clicks, and see your expertise, skill sets, endorsements and broader network. This allows them to quickly establish the fact that you are a credible resource without ever even having to interact with you personally at this point.
Meanwhile, LinkedIn's search function is particularly useful when it comes to narrowing things down to your desired audience. It can be of real help to you whether you're trying to get in touch with digital marketing managers or startup CEOs and get those conversion rates soaring and with proper automation solutions in place, you could also extract LinkedIn search results to your CRM.
.
CONTENT PUBLISHED ON LINKEDIN REACHES A HEAVY HITTING AUDIENCE
Ever wondered where CEOs go online to get their business news? If you said the Times or the Wall Street Journal you'd be a little off the mark, or at least a little behind the times. According to a publication that was produced by LinkedIn in association with some heavy hitters in the global marketing industry, the Sophisticated Marketer's Guide to LinkedIn, 91% of executives rate LinkedIn as their number one, go-to-source of professionally relevant content.
This means that if you, as a LinkedIn user, can regularly offer the types of content potential customers head to the platform actively in search of, even if you do not immediately connect with them you stand a great chance of at least 'getting on their radar' and scoring a LinkedIn lead.
LINKEDIN IS CURRENTLY HUGELY UNDERUTILIZED
So, you have all of those business decision-makers and heavy hitters heading to LinkedIn in search of content, but a small business owner or an individual has very little chance of reaching them, right? Actually, right now, in 2019, you have a FANTASTIC chance to reach them (this is the part where your eyes should light up…).
This is because at the moment, as a content marketing platform LinkedIn is still being vastly underused. Of the nearly 600 million users, and the 173 million active weekly users,only a measly 3 million of them share content on a weekly basis.And even fewer are making use of LinkedIn's article publishing platform.
Doing the basic maths, this means that 3 million LinkedIn users (read: potential leads) could possible garner billions of views for their content. This should make the case for content creation and distribution via LinkedIn a no-brainer, but thus far, people are slow on the uptake. They'll get there no doubt. But at the moment, the opportunity to reach – and connect – with some very important people, and some truly great leads – is huge.
Ready to take advantage of that opportunity? Talk to us